Protocol delegatii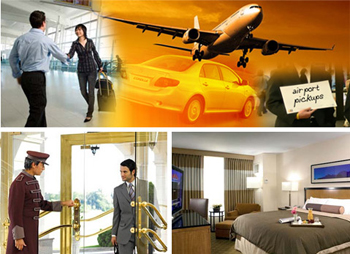 General presentation
Protocol Service Division is a support structure within which specific rules apply and comply with formal procedure and ceremony, based on the requirements requested by the client.
This service involves the following main tasks:
- Organizing delegation trip (airline tickets, airport transfers, accommodation)
- Organization of arrival and departure protocol calls to / from airport, station, port
- Organization of transport service
- The organization of protection and guard service
- Develop and execute comprehensive program of visits, meetings and business meetings
- Organizing business dinners, private events
- Preparing documents and presentation folders
- Personal Assistance 24 / 7
Within the services our company provides, regarding car renting, we can specify:
- renting / returning the car to any location in the country
- renting limousines, luxury cars, 8+1 cars
- renting for travelling abroad
- renting the car with or without a chauffeur
- transfers of persons between locations, to/ from the airport or abroad
- tours with or without a tour guide and a driver
- additional available equipments – optional accessories (baby car seat, extra luggage compartment, radar detectors, GPS, winter chains, mobile phone)
- Long term Car Rental Plan
Regarding accommodation, we provide rent apartments. Accommodation in apartments in recent years is much more convenient than alternative offers hotel companies. If you choose to rent apartments, the price is lower, and facilities offered are similar conditions and the privacy and comfort much higher.
At our company, you will always find a special offer, meant to answer you needs as best as it can, when you are looking for a car rental company. Care for the client, promptitude and flawless quality of services are our strong point.