Cleaning services
The general cleaning services are apparently simple necessities, but they can give you terrible headaches. Avoiding this nuisance and hiring a professional company guarantees you will save time and money, as well as have access to quality services.
Why should you hire a cleaning company ?

- You know the exact time when the activities start, how long they will take and when they will end.

- There is legal responsibility, as well as insurance policies.

- Only professional products and equipment will be used.

- Qualified personnel for any kind of cleaning services.

- Concerning companies, the service externalization will ensure that the environment you work in is an optimal one.

- Concerning natural persons, you can spend the time you save together with your loved ones, in the pleasant ambient, created as a result of professional cleaning.

- Promptitude in meeting the requests.

- A cleaning company will never say "This can't be cleaned, washed or wiped...".
Why us?
US – because:
- We offer you a portfolio full of advantageous offers.
- We guarantee your satisfaction – cleaning in detail and we never say you will be satisfied – we guarantee it. If you are unsatisfied with a surface which was cleaned by us, we come back the next day, free of charge, and we clean it until you are satisfied.
- We help you make an investment, not only the acquisition of some services.
- We offer you values such as integrity, trust, respect, attention to details and virtuousness.
- We display flexibility, professionalism and promptitude.
- You receive assistance and counseling during the entire collaboration.
- Thanks to us, your space will sparkle !

Where do we provide our services?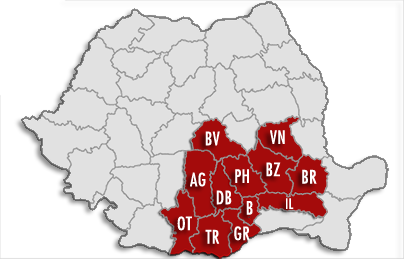 Are marked in red counties in which we provide our services;
*Depending on the services wanted, we can go in counties marked out;
How can you contact us?
Because we value your time, we offer you the fastest methods of contacting us.
By phone at the following numbers:
Vodafone: +40 737 506 710
Orange   : +40 756 625 773
At our E-mail address:
curatenie@brandjo.ro
Filling in the online form
Which are the prices?
The prices are influenced by:
- The complexity of the service
- The peridiocity of the service
- The emergency of the service
- How far the location is
- The number of the involved persons
It is important to remember that for subscription-type contracts, the prices are negotiable.
Before we establish a meeting to discuss everything in detail, please send us some general information regarding the service you wish to require.
What products and equipment will be use?

The equipments are safe and silent, giving us the ability to use them even during your working hours or if you are inside the building when we are performing our cleaning services. The solutions we use are hypoallergenic and leave very clean surfaces behind. The solutions and equipments we use are professional, the cleaning solutions being biodegradable, non-toxic and pleasantly smelling.