Floor treatment and maintenance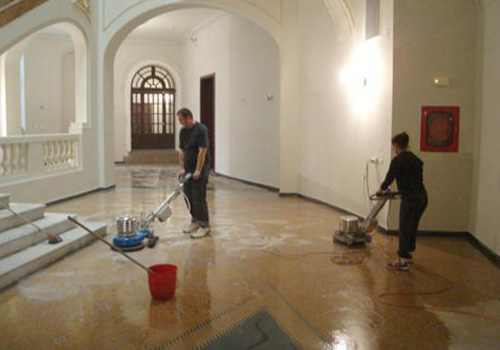 We provide maintenance services for marble, mosaic, granite, tile, flooring and linoleum, using maintenance and cleaning methods, technology, as well as solutions especially created for any type of floor.
The action consists of two important stages:
1) Prewashing and degreasingis made with specialized cleansers, with the help of the monodisc grinding machine, equipped with a rotating brush to remove particles and layers that might affect the process of grinding, followed by the vacuuming of the entire surface, using a vacuum for liquids.
2) The physico-chemical treatmentof surfaces is realized with the polish acrylic of floors, which gives the surface a distinct shine, closes all pores, gives very good mechanical properties (maximum resistance to traffic) and chemical protection. For approximately one year (depending on the traffic and the quantity of dust brought on your shoes) marble can be maintained through the easy washing with the soaked T, an essential condition being to control it in a single direction.
Advantages:
- In-depth floor cleaning
- Create a surface layer with high mechanical strength
- Really nice aspect – perfect shine
- Ease of maintenance
- Mechanized operation, increased productivity
- Good protection against chemical attack
- Silent method, no dust, can be used on parceled space, without affecting traffic