Utilitarian alpinism services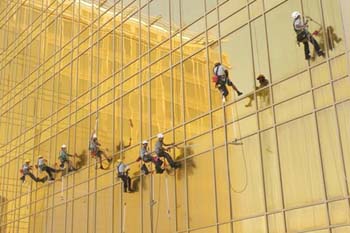 Our clients' expectations become our goals and this is how we succeed in satisfying the highest standards. Office buildings, apartment buildings, commercial spaces, or different types of towers, cleaning and maintaining facades, washing windows and facades, holidays decorations and installing of a huge banner – our team of utilitarian climbers accept any dare and always fulfill their promises.
Utilitarian alpinism - why?
Speed work: the necessary time to start the work and to shift between sections is considerably less with utilitarian alpinism, than the time we need for installing and dismantling of scaffolds and transporting them between the objectives' segments.
Wide range of works: climbers can work in difficult conditions considering the leeway or in perimeters where the installation of scaffolding would be impossible. As well, thanks to the specifics of rope work, the team can offer its services regardless of how high the objective is.
Low overall prices: utilitarian alpinism implies lower prices when comparing it to alternate solutions, based on using metallic scaffolds or platforms, which are heavy and expensive and temporarily block the gateways.
Safety: utilitarian alpinism, when used correctly according to the IRATA standard, with two independently secured ropes, is a means of access and working at highs safer than the traditional wood or metal stairs, fixed or mobile.