Monitoring and Rapid Intervention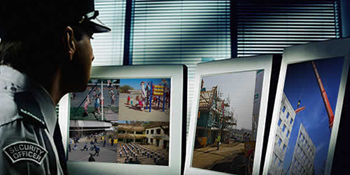 Through the Monitoring and Rapid Intervention service are viewed, in a quick and discrete manner, the following:
- the persons who arm and disarm the alarm system
- the exact hours when the arming and disarming are done
- burglary alarm
- hold-up alarm
- lack of tension in the network
- the possibility a of sabotage of the system
- fire alarm .
For all these, it is necessary to install a complex system of detection. The connection to this system can be made through simple telephone line, GSM or GPRS. Our dispatcher, to which all security systems are interconnected and of which our clients benefit, allows any type of monitoring.
This category of services is realized on the basis of a monthly subscription which implies an unlimited number of operative interventions, as well as the customer's right to a free call in order to test the efficiency of our teams. Through subscription to this service, your security system will be permanently monitored.
All provided services are monitored through our company's dispatcher, which ensures intercommunication between objectives, as well as the electronic surveillance of alarm systems 24/24 hours. This service ensures intervention of auto teams at the place of the incident, shortly after the alarm goes off.
The electronic monitoring system is actually a transmitter's network (individualized for each customer), which permanently delivers captured data to the specialized receiver in the monitoring center. The information in the system is exploited to guide the intervention team in the place where the events occur.
When an event occurs (burglary, fire, emergency situation, technical problems), the communication unit installed at the customer will instantly transmit the codified information to the dispatcher, the dispatcher acting according to the agreed procedures.
The rapid intervention service is carried out with cars served by teams of two intervention agents, prepared and trained, equipped with modern equipment: bullet-proof and knife-proof vests, lachrymal spray, tonfas, emission-transmission stations, mobile phones, gas weapons, rubber-bullet guns etc. Depending on the case, we ensure connection with the emergency dispatchers: Ambulance, Police, Firefighters.